Video in new media: second screen, branded content, interactive films, and cross media
Filmteractive
is an international event devoted to second screen and innovative audiovisual content, such as interactive films, branded content, and cross media. Filmteractive is an ideal meeting place where filmmakers, interactive directors, artists, marketers, and potential investors may network and exchange their professional know-how.
Filmteractive is a combination of a business conference, (
Filmteractive Conference
), marketplace for innovative audiovisual content (
Filmteractive Market
), and digital video art festival (
Filmteractive Festival
). Our target group includes:
Film branch
– creators and producers pitching their projects, and looking for potential investors and partners
Interactive branch
– digital companies, portals and VOD services interested in purchasing the pitched projects; content creators, interactive directors and other new media producers
Investors
willing to finance presented A/V projects
Media looking
for new content
Advertising branch
interested in using video art
Marketers
interested in expanding their business contacts
Organisers:
Digital One
www.digitalone.pl
Media Cluster Foundation
www.mediaklaster.pl
Łódź Film School
www.filmschool.lodz.pl
WE ARE HERE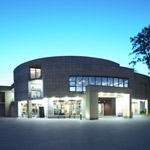 National Film School in Lodz
The most prestigious Film School in Europe is situated at Targowa Strett 61/63 in Lodz. This is the centre of film life in Lodz and in Poland. Among the best known graduates are: Andrzej Wajda and Roman Polanski.

Hotel DoubleTree by Hilton
The very first in Poland
DoubleTree by Hilton
has been officially announced the partner hotel of Filmteractive 2013.
It is located at the heart of Polish cinematographic history at Lakowa 29 (
www.lakowa29.pl
) and wonderfully combines the modern and the traditional face of Lodz.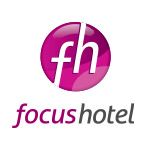 Hotel Focus Łódź
Hotel Focus Łodz is a modern hotel at a very attractive price, per room with breakfast you get 20% discount*
Located in the city center just off the main street Piotrowska.
Large comfortable rooms, free WiFi and a take-away breakfast - are our advantages. Book your stay now for Tel: +48 42-637-12-00

* Special price available on the slogan: Filmteracvtive Festival