The first interactive and crossmedia content marketplace in Central and Eastern Europe!


The projects selected to participate in Filmteractive Market on the 26th September 2013 will get the chance to compete for the HBO AWARD worth of 10.000 PLN. The best project will be chosen by an international jury of content buyers and audiovisual experts.
Do you want to take part in Filmteractive Market as a guest?
Buy the ticket for Filmteractive Conference & Market! 
Are you a content buyer/film commissioner/film producer?
Visit the Filmteractive Market FOR FREE! Let us know: sonia.fizek@filmteractive.eu
The place to be for those who want to sell and buy a project or IT solution. The best interactive films, crossmedia and digital content projects will be pitched in front of international professionals, commissioners, and European broadcasters. Submit your project at
project@filmteractive.eu
.
If you are the author of the interesting audiovisual project and wan to present it, submit you application including following information:
name and surname (name of the company)
title of the project
links to your potfolio / website etc
description of the project
We are looking for innovative projects in 4 following fields:
interactive video
crossmedia/transmedia
branded content
digital content
We are interested in projects in all the phases of production (planning, creating, post – production, finished projects). 
WE ARE HERE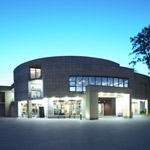 National Film School in Lodz
The most prestigious Film School in Europe is situated at Targowa Strett 61/63 in Lodz. This is the centre of film life in Lodz and in Poland. Among the best known graduates are: Andrzej Wajda and Roman Polanski.