Unique combination of business & art,
film & new technologies, youthful energy & experience
Filmteractive Festival is devoted to digital creators and artists, who will present their innovative film & crossmedia projects, as well as digital art cases. Our guests up-to-date include: Arseny Vesnin (Designcollector, Russia), The Kissinger Twins (UK | Poland), Dr Christa Sommerer (Austria), Simon Staffans (Media City, Finland) and Adipat Virdi (Transmediasphere, UK).
WE ARE HERE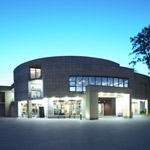 National Film School in Lodz
The most prestigious Film School in Europe is situated at Targowa Strett 61/63 in Lodz. This is the centre of film life in Lodz and in Poland. Among the best known graduates are: Andrzej Wajda and Roman Polanski.